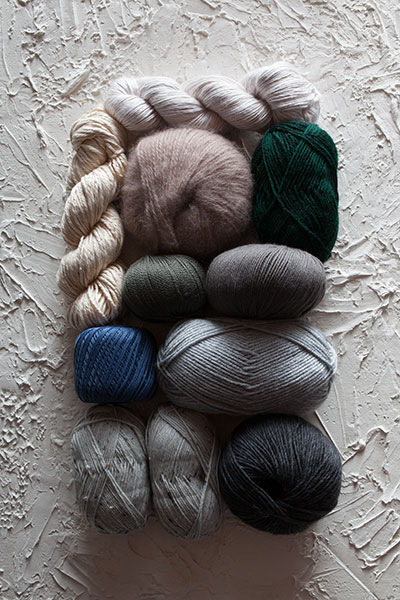 Ahhh.... January. I'm beginning to look for the things I enjoy about winter rather than look for every sign of spring I can find. In the car on the way to Preschool this morning John and I went over the things we really loved about winter. I said, "Winter walks and the quiet peace of the woods. Being able to see the beauty of the naked trees. Nature at rest. Being able to sit in front of the fire and knit. Wearing wool sweaters. Curling up under a down duvet." Then he broke in, "But here's something that I love that you forgot. Going out and walking in the snow and then coming in for hot chocolate!" Ooooo, I love that boy! He's just the greatest! Yes! Isn't that a wonderful part about winter.
I really enjoyed
this
post about enjoying winter too!
I looked out my door yesterday morning and saw such pretty colors - browns, whites, blues, and greens. And then a few hours later I noticed the same palette in yarn on the KnitPicks website. Ooooo what I would give to be able to buy that
sampler
and make the whole thing into a shawl! Wouldn't that be fun!
Having a little baby in the house means that handknits are being made and being grown out of rather quickly. I know - I should just use some of the ones I knit for John. But for some reason I want Arthur to have his own stash of knits. I just finished this dark blue sweater out of Berroco Vintage. No, there isn't a pattern - it's one of my own unpublished designs, designed specifically for Arthur. I wanted something that buttoned on the side but had a deep v-neck because... well, he has no neck. His delightful little fat rolls don't allow him a neck. Oooo, isn't it lovely having a chubby baby! No worries about his growth and health!
And of course, since it is midwinter and his mama likes to take a lot of winter walks the poor babe needed some mittens. Again, no pattern to share! Sorry!
I've complied a video of other things I have been working on. It seemed faster and I've really enjoyed Susan B Anderson's little catch up videos. I feel really stupid doing them - that's the one down side! Hope you enjoy, though! FYI: The title of the book appeared backwards to me when I made the video - but of course when the video is played it looks normal. A silly technical glitch that caught me off guard.
Under 100 Knit Collection Book
Right now the book is 40% off and only $14.99! What a steal!
Pixie Purses Pattern
Magic Cake Shawl Pattern
My own
notes
about the magic cake shawl
Joining with
Ginny
and her lovely Yarn Along